Compare iPhone 4 and iPhone 3GS
December 9, 2010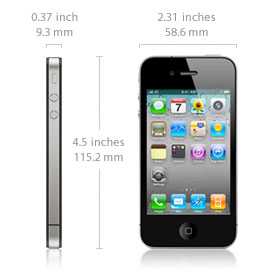 The iPhone 4 is shown on your left and the iPhone 3GS is shown below. If you are thinking of buying an iPhone then below are some facts to help you decide which one will best answer your needs. Both iPhones look the biz and as you can see, there is only a slight difference visually in that iPhone 4 is slimmer than her older sister.
Currently at Three you can pick up the iPhone 3GS 8GB in black for an upfront cost of £129 and a monthly cost of £25 per month over 24 months.  The iPhone 4 16 GB in black can be bought upfront for a cost of £99 and a monthly cost of £30 per month over 24 months. Over 2 years the iPhone 4 will cost you about £90 more. Both come with 300 any network minutes, 5000 texts, 5000 Three-to-Three minutes and 500MB Internet on Three's Internet Texter 300 package.
Specification Comparison
For ease of comparison and to match the information above we compare the Black iPhone 4 with 16GB of memory and the Black iPhone 3GS with 8GB of memory. The iPhone 4 comes with double the memory of the 3GS. Battery life on Iphone 4 also gets you 7 hours 3G talktime compared to only 5 hours on the 3GS. In the iPhone 4 the display is  High Resolution Retina display  with 960×640 resolution whereas the iPhone 3GS  has a slightly inferior 480×320 standard display. Apple's Facetime, used for video conferencing, can only be used with the iPhone 4 as the iPhone 3GS does not have a front camera to make this possible.
The main camera of the iPhone 4 is 5 megapixels whilst the 3GS is 3 megapixels. Both iPhones have auto focus and tap to focus. However, the iPhone 3GS has basic VGA video recording whilst the iPhone 4 has impressive HD video recording with LED. The iPhone 4 has a Gyro which makes for a superior mobile gaming experience.
After this comparison you are aware that the iPhone 4 has an improved memory, longer battery life and new features while only costing approximately £90 extra (that is £3.60 a month more for an iPhone 4).
Non-contract deals and PAYG
The iPhone 4 uses micro SIM cards, and not standard SIM cards like the 3G models. So if you buy an  iPhone 4 the new SIM card you require will be the micro SIM card.  Activation of the phone requires the latest version of  iTunes, a broadband connection and a minimum level of PC or Mac software. If you are considering a reconditioned iPhone buyer beware – read our more detailed guides on buying secondhand.
New and second hand deals
Amazon and Carphone Warehouse both have great deals on new and second hand iPhones that change from hour to hour and day to day -so keep an eye open for their latest online offers. For example, the following are some of Amazon's current iPhone deals:
The iPhone 3GS 16GB Black by Apple (Electronics) is £599.99 new.
Amazon have 12 new from £349.62 or 22 used reconditioned from £315.00.
The iPhone 3G 8GB in Black by Apple is £489.97 new.
Amazon currently have 6 new from £369.00 and 29 used from £210.00 – selling fast.
Click the following links to buy online or for current website information :
View our buy online webpage
View the Carphone warehouse website
Visit the Amazon UK website
Visit the three website
News on Apple iPad
December 8, 2010
This article aims to inform you regarding the first news app for Apple iPad and it then compares mobile phone operators contracts and download limits. We are beginning to see some very competitive iPad reductions and contract deals.
The Apple iPad is a touchscreen tablet computer that revolutionises the way you access the internet. The iPad is offering a new way of delivering your news. For example, The Sunday Times is the first newspaper to introduce a news app, a digital version, that allows readers to view the entire printed edition of their paper with video, graphics and superb HD-quality picture slideshows without getting any print on your hands! The iPad can deliver fantastic graphics and the app is free to view. However, to download issues of the Sunday Times you will have to pay £1.79 a week via your iTunes account. However, if you subscribe to the Sunday Times website, it will cost £1 a week under their current 30-day introductory offer. If you already subscribe to the printed edition you will be able to download the iPad edition free. Why not watch a video of the Sunday Times app in action at thesundaytimes.co.uk/ipad.  It only takes seconds to download each news section -to be read at your leisure- read in landescape mode and by rotating the iPad 90 degrees will give you plain text view of articles, with pinch and zoom functions enabling you to select type size.
IPad and the Internet
Wifi home users can use their iPad to connect online without any extra charge. There are wifi 'hot spots' in coffee shops and airports which you pay to use. The iPad can also connect online using the mobile 3G network, run by mobile phone operators, on a PAYG basis or a rolling monthly plan. Orange offers such a rolling plan for £15 a month for 3G data and unlimited access to BT Openzone wifi hotspots.  Operators are already enticing customers to sign up for longer contracts by subsidising the initial cost of the iPad.
Contracts and download limits
3 have introduced a two year plan that costs £25 a month and includes 15GB of downloaded data. The 16GB iPad costs £199; the 32GB £249 and the 64GB £349. If you exceed your data limit  3 will charge you 10p per MB of data -an expensive excess when compared to Orange and T-Mobile. However, 3 offers the 'Mifi'  option which looks a great deal – a portable wifi hotspot that connects to the internet using a 3G network offering wifi only owners of iPad more flexibility. The Mifi offers 5GB of data downloads for £15 a month plus an initial cost of £39.99 for the portable wifi modem.
Orange & T-Mobile are both owned by Everything Everywhere and offer a two year plan costing £25 (existing customers) or £27 a month (new customers) with a rather meagre 1GB of downloads monthly at anytime and a further 1GB between midnight and 4pm. Not such a generous deal as 3. They will however only charge you 5p per MB for exceeding these limits. If you think you will be an avid data user of your iPad when you are out and about 3 sounds the better choice.
The best option overall?
Consumer Choices in the Sunday Times Newspaper suggest that it is cheaper to buy a 16GB 3G iPad for around £529 and a SIM only deal from O2 for £10 a month – saving around £78 over the 2-year contracts. For more information and updates:
visit the three website
visit the T-mobile website
Visit the Orange website
Visit the o2 website
Visit the iPad page on the Tesco website
Visit the iPad page on the Amazon website
iPad released on Three
December 6, 2010
Three (3) -the mobile phone network – is now stocking the iPad. They have entered the market with a cracking deal that not only matches the contract pricing being offered by Orange and T-mobile but beats them in the amount of inclusive data downloads.
Three have followed Orange and T-mobile in offering a cheaper way to buy the iPad…. if you go with a 2 year contract – the 16GB iPad will cost you an upfront fee of £199, the 32GB iPad costs £249 and the 64GB iPad will set you back £349. To get this discounted initial price you will have to sign-up to a 2-year data contract. The monthly plan for the Three Apple iPad is £25 per month (for 15GB of data downloads per month) based on a 2 year contract.
Buy the iPad from the following online retailers…
Visit the Three website
Visit the Orange website
Visit the T-mobile website
Visit the iPad page on the Tesco website
Visit the iPad page on the Amazon website
The iPad costs from £529 if you want wi-Fi and 3g connectivity and £429 if you can make do with just Wi-Fi connections.
HTC growing challenge to iPhone
November 27, 2010
HTC are currently getting more hits online than Apple's iPhone suggests the Telegraph today. Web searches for HTC phones outstrip iPhone – consumers' online habits reveal that they realise Apples are not the only fruit to pick. Apparently, we are more likely to search for HTC's handsets when researching new phones than Apple's flagship handset, the research reveals.
The research comparison site Good Mobile Phones recently confirmed that HTC's Wildfire, Desire and Desire HD were the three most searched-for phones on the site, with Apple's iPhone 4 in sixth place. If you too are checking out the competition then you need to read our blog on 'Is iPhone your best buy?' published last week. Although HTC appear to be breaking new ground it could be a while yet before their brand can match Apple's brilliant marketing with impressive products.
The mobile phone market is now more diverse than ever, with interesting offerings from BlackBerry, Android and Windows. But iPhone 4 remains the strongest proposition. The reason? IPhone 4's battery lasts longer than the top HTC Android phones, the iOS operating system is slicker than anything yet offered by a Google-powered handset, and it provides music and video options that Windows Phone, though improving, has yet to match.
"For some time now, HTC has been knocking at the door and trying to overtake the Apple iPhone's dominance of the handset market," said Mark Owen, managing director of the comparison site that carried out the survey. "Our results clearly show that HTC have taken the lead in terms of consumer demand for their smartphones."
The co
st of purchasing an iPhone 4 – starts from around £499 PAYG, and costs as much as £329 on some network and tariffs. However, limited availability is off-putting for some consumers. There is a growing conviction in the smartphone market that the HTC range of handsets offer an exciting competitive technological edge in terms of features and functionality. Many HTC handsets run Google's Android operating system. The platform is now the second most popular smartphone OS in the world, with a 25.5 per cent share of the market. Apple's IOS platform, found on the iPhone, accounts for 16.7 per cent, according to research from Gartner.
HTC's Mozart is gaining ground on Apple iPhone but that may not be a bad thing for consumers as competition brings innovation. Apple will probably came back with something better. For example, one of the niftiest new features for iPhone 4 is the Find My iPhone which helps you locate your device if you have misplaced it. It actually lets you remotely lock your iPhone, wipe it, display a message or play a sound on it. This service is available on PAYG – add a MobileMe account by tapping Mail, then tapping MobileMe. Enter the Apple ID and password you use with the iTunes store. That will set up a MobileMe account for you. This is a great new feature for the smart, security-minded mobile user. It may even swing your decision to buy an Apple iPhone.
Further resources.
Visit our buy online webpage for more choice.
Or Visit the Orange website for HTC handset information as the HTC 7 Mozart is available now for £399 PAYG or consider a free handset with monthly deal.
Visit the Vodafone website where the HTC Desire Z can be found with several different options for pricing and plans. For a £25 a month plan you'll pay £199 for the phone, whereas a £35 plan which features 900 minutes and 750MB of mobile data will get you a free phone.
Visit the three website for iPhone 4 PAYG and reconditioned handsets at competitive prices.
visit the t mobile website to buy PAYG iPhone 4 handsets
Changes in pricing of iPhone on Three
November 5, 2010
Here is a snippet from the new product pricing of the iPhone on the Three mobile phone network…
"Three would like to inform you of changes to the iPhone pricing structure, the following changes will come into effect today Friday the 5th November.

iPhone 3GS

iPhone 3GS 8GB – Internet Texter 500 £30 a month – £49 upfront charge

iPhone 4

iPhone 4 32GB – Internet Texter 500 £30 a month – £239 upfront charge
iPhone 4 32GB – Internet Texter 500 £35 a month – £159 upfront charge
iPhone 4 32GB – Internet Texter 900 £35 a month – £209 upfront charge

Refurbished iPhone 4

iPhone 4 16GB Refreshed – Internet Texter 500 £30 – £149 upfront charge
iPhone 4 16GB Refreshed – Internet Texter 500 £35 – £69 upfront charge
iPhone 4 16GB Refreshed – Internet Texter 900 £35 – £119 upfront charge"
For more information or to purchase the iPhone on Three visit the Three website.
White iPhone 4 delayed
October 27, 2010
If you have been waiting with baited breath for a white Apple iPhone 4 then I am sorry to inform you that you are going to have to wait several more months before it is available. Claudine Beaumont, Technology Editor of Telegraph.co.uk has confirmed that the white iPhone 4 will not be available until early 2011. So those of you who have requested a white iPhone 4 on their Xmas list are going to be very disappointed.
An Apple spokesman said "We're sorry to disappoint customers waiting for the white iPhone yet again, but we've decided to delay its release until spring."
Apple has not clarified the reason for this delay but many are speculating that the manufacturing problem is caused by colour matching the home button with the back and front plates on the handset. However, it would appear that fans of iPhone are still furiously buying the black iPhone 4 and last week Apple announced that they have sold more than 14 million iPhones in their latest financial quarter (that is approximately $8.6 billion in revenue).
For those of you who would still like the classic black iPhone 4 there are  some very good deals exclusive to the web. Vodafone, T-Mobile and Orange are worth checking out as they are offering monthly tariffs of £35-£45 -these offers are not made in your local stores. All monthly tariffs for iPhone 4 come with free voicemail and WiFi. The Carphone Warehouse are also giving good trade in deals for your old phone – useful if you are PAYG or on a short contract.
View the iPhone 4 deals:
Visit the Vodafone website
Visit the T-mobile website
Visit the Orange website
Visit the Carphone Warehouse website
For more information view our Buy Online webpage.
Reconditioned iPhone 4 on Three
October 27, 2010
You can now get the iPhone 4 for significantly less money on the Three network. As of this morning Three are stocking the iPhone 4 in a refurbished condition.
Find out more by visiting the Three website
From three:
"Three is pleased to announce that it has got its hands on the 'Refreshed' stock of the wildly popular 16GB iPhone 4.

This model will be live on 3Store from around 10am this morning and is available on each of the four iPhone tariffs from Three.

What does 'Refreshed' mean?

These units have passed both cosmetic standards as well as functional standards by Apple, however some devices 'may' have minor marks from use
All previous customer data has been removed/deleted from the device
All accessories that come with a Refreshed version are new
Packaging for iPhone will be cleaned and repackaged in a Three box
All customers must be made aware that the device they're receiving is a repackaged product
Customers will get 12 month warranty on this product

The Refreshed 16GB iPhone 4 is available on four of three's tariffs:

Internet Texter 500 
Internet Texter 900
The One Plan 
The One Plan 

To confirm, the pricing is in line with the original 16GB iPhone 4."
More information – Guide to finding a reconditioned iPhone.
Best iPhone cases
October 23, 2010
There are dozens of bumpers , cases and wallets available online. We are all aware that the iPhone glass panels need to be treated with care and respect as dropping and damaging your iPhone is not a hardware failure. Square Trade have investigated and recorded the number of iPhone 3GS broken glass claims comparing this number to the iPhone 4 claims and found no real difference in the 2 models when you take into account that you have double the risk with an iPhone 4 as it has 2 glass panels. Square Trade's suggest "fewer than 0.5 per cent of iPhone 4 owners have reported a non-accidental claim" which strongly denies some media claims that iPhone 4 glass is less reliable than iPhone 3GS.
However, the iPhone 4, having a glass back as well as a glass front, means it does have a lower coefficient of friction than the iPhone 3GS. This means it takes less force for your iPhone 4 to slip around and fall to the ground. The two-glass design makes an accident more likely – so protecting with a case and careful handling make good sense. With Apples free bumper offer now ended you might be interested in our choice of the best iPhone cases. The first 3 cases are designed for iPhone 3G & 3GS models from Proporta accessories and the last 3 cases are for iPhone 4 and can be purchased online – visit the o2 website.
Proporta Shine
As pictured below (prices around £25), the Shine is a flip-open case made out of glossy patent leather, and available in black, red or blue. Inside the case there's a mirror so that you can check your visage before that important business meeting or hot date. You can select a number of different print linings for the inside of the case, including zebra skin or floral patterns.
We think this case is just as desirable as the device it's housing. The new Shine Case for your Apple iPhone 3G from Proporta has a sleek high gloss patent leather exterior, fits like a glove and looks as stylish; while the magnetic closure system keeps your iPhone 3G protected and out of harm's way. And for a subtle twist, the mirror is framed with a funky, soft feel zebra print lining. Exclusively available from Proporta Accessories.
Key Features
Dress to impress
High gloss patent leather
Internal mirror
Magnetic closure system
Framed with a soft feel zebra print lining
Porta Aluminium lined leather Case
Our second choice is the Aluminium Lined Leather Case (Apple iPhone 3G/3GS) approx. £30
The Proporta Aluminium Lined Leather Case (Apple iPhone 3G/3GS) is handmade to meet the exact specifications of your device. Available in a variety of colours.
The Aluminium Lined Leather Case (Apple iPhone 3G/3GS) is hand crafted from high quality leather to meet the exact specifications of your Apple iPhone 3G/3GS. Featuring a trademark 'Screen Saver System', a sheet of rigid, lightweight aircraft grade Aluminium lines the Case to protect your precious device from crushing and impact shocks. Stylish and clever.
Key Features
Handcrafted from the finest quality leather
Dimensions = H x W x D : 98 x 45 x 10
Closure System : magnetic clasp
Custom-made to hold your Apple iPhone 3GS securely in place
Instructions on how to fit the case : open case and slide device in the opening at top of case.
Cutouts : Cutouts on sides for all buttons and for charging
Contrast overstitching
Cut-outs for access to device whilst in the case
Dimensions : 125 x 70 x 75 mm
Closure System : magnetic clasp
Attachment System : C-clip
Instructions on how to fit the case : Simply slide the device into the clip
Ted Baker Leather Case
Our third choice is a Ted Baker Leather Case (Apple iPhone 3G Series) approximately £30
Styled by Ted Baker London – distributed by Proporta. This stylish Leather Case is the ideal accessory for your Apple (iPhone 3G). Destined to get a great reception. Available in a range of colour options.
Key Features
Styled by Ted Baker.
Your device can be used whilst in the Leather Case
All ports and controls easily accessible
The next 3 cases are designed for your Iphone 4 and can all be found at O2 Accessories – visit the o2 website.
Glacier iPhone 4 cases Twin Pack – clear and grey
£13.00
Buy one Get one Free
Twin pack of iPhone 4 cases clear and grey
Diamond effect design
Hard wearing protection for your handset
Free delivery
Glacier iPhone 4 cases Twin Pack – purple and pink
£13.00
Buy one Get one Free
Twin pack of iPhone 4 cases – Purple and Pink
Diamond effect design
Hard wearing protection for your handset
Free delivery
OtterBox Defender Case for iPhone 4 – Black
This is my personal favourite case & Available from O2 at £30 – visit the o2 website.
You won't find a tougher case than the OtterBox Defender Series for iPhone 4. This three-layer case will keep your iPhone safe from drops, scratches, bumps and dust.
Last, but not least, is the Griffin white case.
Griffin Reveal Case for iPhone 4G
White at approximately £15 from O2
The Griffin Reveal Case for iPhone 4G is designed to shield your iPhone from the indignities of the outside world. If you cannot get a white iPhone 4 the next best thing is a white iPhone 4 case.
For more information please visit the o2 website.
Smartphones and contract limits
October 20, 2010
Mobile phone operators frequently advertise unlimited data usage as part of their contracts with a clause regarding 'fair usage'. What do they mean by fair usage? Contract deals that advertise unlimited data usage appear to give the mobile phone consumers a great deal -don't they? Well, yes – unless you have a smartphone like the iPhone.
Smartphones are so smart that they can multi-task and are great for downloading emails, songs, videos, TV shows and website pages using large amounts of MB's.  For example, streaming video to your mobile could burn through 500MB of data per hour. In the past, before smartphones, consumers were unlikely to use anywhere near the download limits but the fair usage contract clause is now limiting free downloading as avid mobile users have found to their cost.
Orange charges users £3 per MB for exceeding 'fair usage' they typically restrict unlimited downloads to between 250MB and 750MB on monthly contracts. Vodafone, 3 and O2 limit customers to 500MB-1GB; Vodafone charges £5 per 500MB over the limit costs and 3 costs 10p per MB. Virgin and T-Mobile offer 1GB as standard although if you have a smartphone you are given a generous 3GB a month limit by T-Mobile.
All the major mobile networks have a fair use policy. Be aware that these policies give the network concerned the right to terminate your contract or tariff if they believe you are utilising too many network resources. As described above each network sets explicit limits on data usage and these can varybetween tariffs on the same network. The limits are often hidden in the small print – although your tariff may advertise 'unlimited' data usage – they are not actually delivering this. For more information please check out our network links on the site.
Source: thesundaytimes.co.uk/money
Shorter contracts get smart deals
October 19, 2010
In 2008 Ofcom found that only 3% of mobile phone customers were locked into contracts for 2 years plus – in 2010 this figure has grown to 66%. The retail watchdog Consumer Focus suggest that when customers are tied into long contracts they shop around less for better deals and the mobile networks feel less pressure to compete on prices. Shorter contracts offer the chance for you, the consumer, to shop sooner for a more attractive deal and a new handset.
Some companies like Orange offer their most competitive deals on 3-year contract and Orange is also the only one of the big six not to offer a 12 month contract. From May 2011 under the universal service directive across the EU all mobile phone network providers will be required to offer a 12-month contract and all contracts will be capped at 24-months.
So if you are currently considering leaving PAYG and entering into a contract – be smart and make it short. Tesco Mobile are one of the few networks who are selling 12-month deals with a free phone included (Samsung C3050) for £15 a month. Tesco Mobile also has a 12-month contract at £20 a month for the Apple iPhone with the 8GB 3GS model costing £259. This deal includes 100 minutes of calls, unlimited texts and 3 months unlimited data. Check out this deal by selecting the Tesco Mobile link  on the righthand side of this website. Tesco Mobile also has attractive Sim-only deals 100 minutes of calls and unlimited texts at £6 a month.
So, if you do not want to upgrade your phone, save money by opting for a sim-only deal on a PAYG, or monthly contract. O2 offers a competitive deal with unlimited texts and calls at 8p a minute for only £5 a month – this deal comes under Giffgaff, part of O2 – check out our O2 link for more about this.