Compare iPhone 4 and iPhone 3GS
December 9, 2010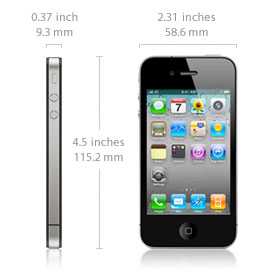 The iPhone 4 is shown on your left and the iPhone 3GS is shown below. If you are thinking of buying an iPhone then below are some facts to help you decide which one will best answer your needs. Both iPhones look the biz and as you can see, there is only a slight difference visually in that iPhone 4 is slimmer than her older sister.
Currently at Three you can pick up the iPhone 3GS 8GB in black for an upfront cost of £129 and a monthly cost of £25 per month over 24 months.  The iPhone 4 16 GB in black can be bought upfront for a cost of £99 and a monthly cost of £30 per month over 24 months. Over 2 years the iPhone 4 will cost you about £90 more. Both come with 300 any network minutes, 5000 texts, 5000 Three-to-Three minutes and 500MB Internet on Three's Internet Texter 300 package.
Specification Comparison
For ease of comparison and to match the information above we compare the Black iPhone 4 with 16GB of memory and the Black iPhone 3GS with 8GB of memory. The iPhone 4 comes with double the memory of the 3GS. Battery life on Iphone 4 also gets you 7 hours 3G talktime compared to only 5 hours on the 3GS. In the iPhone 4 the display is  High Resolution Retina display  with 960×640 resolution whereas the iPhone 3GS  has a slightly inferior 480×320 standard display. Apple's Facetime, used for video conferencing, can only be used with the iPhone 4 as the iPhone 3GS does not have a front camera to make this possible.
The main camera of the iPhone 4 is 5 megapixels whilst the 3GS is 3 megapixels. Both iPhones have auto focus and tap to focus. However, the iPhone 3GS has basic VGA video recording whilst the iPhone 4 has impressive HD video recording with LED. The iPhone 4 has a Gyro which makes for a superior mobile gaming experience.
After this comparison you are aware that the iPhone 4 has an improved memory, longer battery life and new features while only costing approximately £90 extra (that is £3.60 a month more for an iPhone 4).
Non-contract deals and PAYG
The iPhone 4 uses micro SIM cards, and not standard SIM cards like the 3G models. So if you buy an  iPhone 4 the new SIM card you require will be the micro SIM card.  Activation of the phone requires the latest version of  iTunes, a broadband connection and a minimum level of PC or Mac software. If you are considering a reconditioned iPhone buyer beware – read our more detailed guides on buying secondhand.
New and second hand deals
Amazon and Carphone Warehouse both have great deals on new and second hand iPhones that change from hour to hour and day to day -so keep an eye open for their latest online offers. For example, the following are some of Amazon's current iPhone deals:
The iPhone 3GS 16GB Black by Apple (Electronics) is £599.99 new.
Amazon have 12 new from £349.62 or 22 used reconditioned from £315.00.
The iPhone 3G 8GB in Black by Apple is £489.97 new.
Amazon currently have 6 new from £369.00 and 29 used from £210.00 – selling fast.
Click the following links to buy online or for current website information :
View our buy online webpage
View the Carphone warehouse website
Visit the Amazon UK website
Visit the three website
Comments