New social networking app from Vodafone
December 28, 2010
There are loads of applications available in the app store which help you stay connected to your friends and family but Vodafone Update 2.1.2 has something new to offer. Keeping track of each of your social networks all on different apps can be time consuming and complex. Now Vodafone has launched a really useful social networking app "Vodafone Update ". This free app allows users to connect to their social networks at once and update them at any time; it brings all your social network updates to one place thus making it easier for you to keep track of status updates.
When you start the app for the first time you will be asked for your account details for any social network you wish to access from the app, followed by a permission screen where you can allow the app to access your facebook / twitter or any other social network account. Vodafone update keeps you connected to  Twitter, Facebook. MySpace, LinkedIn, VZnetworks and Twitpic contacts. You have an additional option to view updates from specific networks only. You can achieve this by tapping on the social network icon above friends list. Add status updates to networks of your choice by tapping the "write update" button in the top right corner – this opens a text box where you can enter your update and choose the social networks of your choice. Aditionally, you can shrink an URL ; upload or take a photo using twitpic; and geotag your status update from the options menu before sending . You can also reply to your friends messages directly from the app, search for real-time news in twitter and easily send photos to your social networks  from the app.
The Vodafone Update V 2.1.2 is the latest update available to the app and is quite simple to install and fast to work. It is available from the app store for free . If you are thinking of purchasing, or upgrading, your iPhone – check out Vodafone's mobile phone current offers on our website below .
Vodafone also sell a range of checked and tested  refurbished iphones –  they look and work just like new. You get a battery, charger and user guide with your iphone, plus pay monthly handsets also come with a warranty that lasts as long as your contract (PAYG handsets come with a 12-month manufacturer warranty). Remember your sim card will lock you into Vodafone. However, you will benefit from great deals on often popular handsets, without the risks commonly expected!
Check out the offer on the Vodafone website.
Best deal today – free iPhone on 2 year contract
December 11, 2010
Free refurbished iPhone 3G are available today only online.
There are a limited number of contract deals to choose from.
Visit the o2 website to consider this special offer.
The Apple iPhone 3G 8GB entered the market in 2007. That year it picked up the Invention of the Year award from Time magazine.  Just three months after its launch it had outsold the BlackBerry models from Research in Motion by over one million.
It is made in two forms, with one offering 8GB of internal memory (the deal on offer) and a higher end version which includes 16GB that can access more functions. However, both versions include memory expansion card slots. The iPhone 3G 8GB is operated by a touchscreen display which has been specially created for use with a finger or more than one digit for scrolling effortlessly through pages. The interaction system is equipped to understand complex gestures, thus allowing users to adopt techniques such as touching and dragging icons.
The phone doubles as a GPS device, thanks to assisted GPS and the Google Maps application. This enables you to receive turn by turn directions to your location and quickly and easily find your way around. And its large screen makes reading maps on the display a pleasure. There are games and apps which employ the iPhone's accelerator to give you fun Wii-style.
If you are considering going for a refurbished iPhone offer there are a few things to think about. The overall consensus about the refurbished iPhone is not that it is too worn to work well but that it's overall life will be less. It is difficult to replace batteries so check that a reputable company like O2 is offering a new battery in the handset.
The iPhone is also incredibly sensitive so avoid shaking it as this has a negative effect below its hood. If you are using it during physical activity, such as jogging, try to hold it to reduce movement. The touch screen is very sensitive which makes it prone to scratches and cracking. You should buy a protective cover to reduce any future damage that may occur (look at our website for choice of covers). If you would not be able to even consider the item unless it had the refurbished offer, then it is definitely worthwhile.  It is going to be much more reliable then buying one at an auction site, especially since you are guaranteed the quality of O2 service.
For some competitive offers and deals on new iPhones you might consider an Orange package.
Remember – the best deals are only available online.
Compare iPhone 4 and iPhone 3GS
December 9, 2010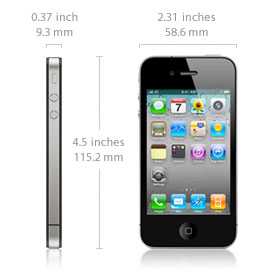 The iPhone 4 is shown on your left and the iPhone 3GS is shown below. If you are thinking of buying an iPhone then below are some facts to help you decide which one will best answer your needs. Both iPhones look the biz and as you can see, there is only a slight difference visually in that iPhone 4 is slimmer than her older sister.
Currently at Three you can pick up the iPhone 3GS 8GB in black for an upfront cost of £129 and a monthly cost of £25 per month over 24 months.  The iPhone 4 16 GB in black can be bought upfront for a cost of £99 and a monthly cost of £30 per month over 24 months. Over 2 years the iPhone 4 will cost you about £90 more. Both come with 300 any network minutes, 5000 texts, 5000 Three-to-Three minutes and 500MB Internet on Three's Internet Texter 300 package.
Specification Comparison
For ease of comparison and to match the information above we compare the Black iPhone 4 with 16GB of memory and the Black iPhone 3GS with 8GB of memory. The iPhone 4 comes with double the memory of the 3GS. Battery life on Iphone 4 also gets you 7 hours 3G talktime compared to only 5 hours on the 3GS. In the iPhone 4 the display is  High Resolution Retina display  with 960×640 resolution whereas the iPhone 3GS  has a slightly inferior 480×320 standard display. Apple's Facetime, used for video conferencing, can only be used with the iPhone 4 as the iPhone 3GS does not have a front camera to make this possible.
The main camera of the iPhone 4 is 5 megapixels whilst the 3GS is 3 megapixels. Both iPhones have auto focus and tap to focus. However, the iPhone 3GS has basic VGA video recording whilst the iPhone 4 has impressive HD video recording with LED. The iPhone 4 has a Gyro which makes for a superior mobile gaming experience.
After this comparison you are aware that the iPhone 4 has an improved memory, longer battery life and new features while only costing approximately £90 extra (that is £3.60 a month more for an iPhone 4).
Non-contract deals and PAYG
The iPhone 4 uses micro SIM cards, and not standard SIM cards like the 3G models. So if you buy an  iPhone 4 the new SIM card you require will be the micro SIM card.  Activation of the phone requires the latest version of  iTunes, a broadband connection and a minimum level of PC or Mac software. If you are considering a reconditioned iPhone buyer beware – read our more detailed guides on buying secondhand.
New and second hand deals
Amazon and Carphone Warehouse both have great deals on new and second hand iPhones that change from hour to hour and day to day -so keep an eye open for their latest online offers. For example, the following are some of Amazon's current iPhone deals:
The iPhone 3GS 16GB Black by Apple (Electronics) is £599.99 new.
Amazon have 12 new from £349.62 or 22 used reconditioned from £315.00.
The iPhone 3G 8GB in Black by Apple is £489.97 new.
Amazon currently have 6 new from £369.00 and 29 used from £210.00 – selling fast.
Click the following links to buy online or for current website information :
View our buy online webpage
View the Carphone warehouse website
Visit the Amazon UK website
Visit the three website
News on Apple iPad
December 8, 2010
This article aims to inform you regarding the first news app for Apple iPad and it then compares mobile phone operators contracts and download limits. We are beginning to see some very competitive iPad reductions and contract deals.
The Apple iPad is a touchscreen tablet computer that revolutionises the way you access the internet. The iPad is offering a new way of delivering your news. For example, The Sunday Times is the first newspaper to introduce a news app, a digital version, that allows readers to view the entire printed edition of their paper with video, graphics and superb HD-quality picture slideshows without getting any print on your hands! The iPad can deliver fantastic graphics and the app is free to view. However, to download issues of the Sunday Times you will have to pay £1.79 a week via your iTunes account. However, if you subscribe to the Sunday Times website, it will cost £1 a week under their current 30-day introductory offer. If you already subscribe to the printed edition you will be able to download the iPad edition free. Why not watch a video of the Sunday Times app in action at thesundaytimes.co.uk/ipad.  It only takes seconds to download each news section -to be read at your leisure- read in landescape mode and by rotating the iPad 90 degrees will give you plain text view of articles, with pinch and zoom functions enabling you to select type size.
IPad and the Internet
Wifi home users can use their iPad to connect online without any extra charge. There are wifi 'hot spots' in coffee shops and airports which you pay to use. The iPad can also connect online using the mobile 3G network, run by mobile phone operators, on a PAYG basis or a rolling monthly plan. Orange offers such a rolling plan for £15 a month for 3G data and unlimited access to BT Openzone wifi hotspots.  Operators are already enticing customers to sign up for longer contracts by subsidising the initial cost of the iPad.
Contracts and download limits
3 have introduced a two year plan that costs £25 a month and includes 15GB of downloaded data. The 16GB iPad costs £199; the 32GB £249 and the 64GB £349. If you exceed your data limit  3 will charge you 10p per MB of data -an expensive excess when compared to Orange and T-Mobile. However, 3 offers the 'Mifi'  option which looks a great deal – a portable wifi hotspot that connects to the internet using a 3G network offering wifi only owners of iPad more flexibility. The Mifi offers 5GB of data downloads for £15 a month plus an initial cost of £39.99 for the portable wifi modem.
Orange & T-Mobile are both owned by Everything Everywhere and offer a two year plan costing £25 (existing customers) or £27 a month (new customers) with a rather meagre 1GB of downloads monthly at anytime and a further 1GB between midnight and 4pm. Not such a generous deal as 3. They will however only charge you 5p per MB for exceeding these limits. If you think you will be an avid data user of your iPad when you are out and about 3 sounds the better choice.
The best option overall?
Consumer Choices in the Sunday Times Newspaper suggest that it is cheaper to buy a 16GB 3G iPad for around £529 and a SIM only deal from O2 for £10 a month – saving around £78 over the 2-year contracts. For more information and updates:
visit the three website
visit the T-mobile website
Visit the Orange website
Visit the o2 website
Visit the iPad page on the Tesco website
Visit the iPad page on the Amazon website
iPad released on Three
December 6, 2010
Three (3) -the mobile phone network – is now stocking the iPad. They have entered the market with a cracking deal that not only matches the contract pricing being offered by Orange and T-mobile but beats them in the amount of inclusive data downloads.
Three have followed Orange and T-mobile in offering a cheaper way to buy the iPad…. if you go with a 2 year contract – the 16GB iPad will cost you an upfront fee of £199, the 32GB iPad costs £249 and the 64GB iPad will set you back £349. To get this discounted initial price you will have to sign-up to a 2-year data contract. The monthly plan for the Three Apple iPad is £25 per month (for 15GB of data downloads per month) based on a 2 year contract.
Buy the iPad from the following online retailers…
Visit the Three website
Visit the Orange website
Visit the T-mobile website
Visit the iPad page on the Tesco website
Visit the iPad page on the Amazon website
The iPad costs from £529 if you want wi-Fi and 3g connectivity and £429 if you can make do with just Wi-Fi connections.